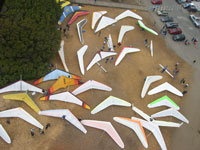 Dan Murphy's memorial aerial view.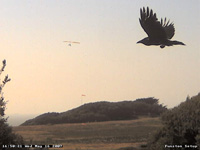 Killer bird attacks hang glider.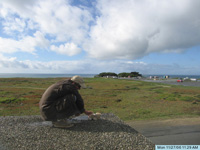 Dave Crafts storing his security bear.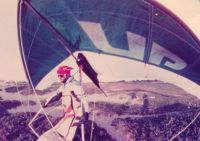 Chief took this photo of Dan "The Man" Racanelli in the Funston LZ. Check out the helmet with feathers.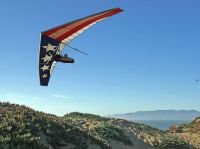 Manuel Sagarbarria sent us this great shot.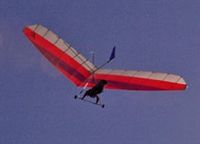 Another nice shot from Manuel.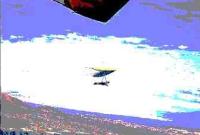 Photo by Chris Cornbill of Dave Ruiz flying over Daly City. Treatment by Dave Ruiz.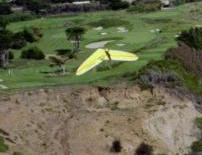 Enzo wrong side up over the bowl. Photo by Urs.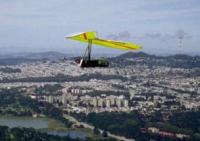 And another great shot of Enzo from the Urs point of view.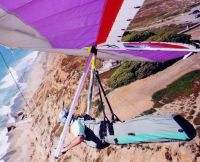 A great self portrait of Jim Harris passing over launch on a crystal clear glassy smooth day.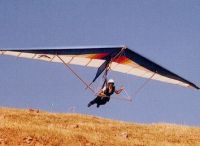 Jim on his first topless - a ProAir 'Dawn' (with side struts) launching from Tam' in 1988.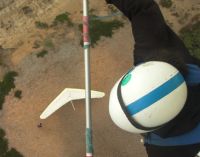 Diev Hart sends us a great photo looking down on launch.
Diev Hart great pic no. 2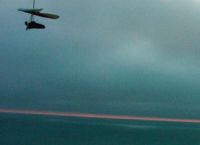 Diev Hart great pic no. 3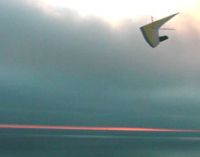 Diev Hart great pic no. 4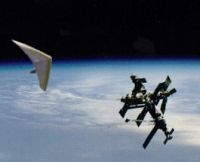 Enzo sends us this pic documenting his newest altitude record.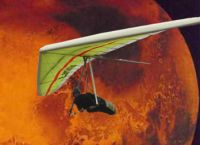 And another documenting his XC record.
A nice pic from Larry Carpenter.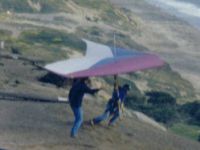 Chief guest flying Mark Lillidahl's Alto Stratus in 1978. Note Thorton Beach (background) and the slope at launch. Photo taken by "Skip".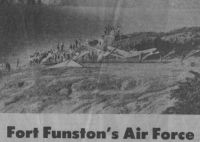 A little Funston history... This photo appeared in S.F. Chronicle in the mid 70's. Note there is no viewing stand, how small the bushes are at launch and the gliders nose down positions.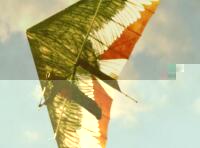 Duane Hoepker sends us this picture of his hand-painted Lancer 190 taken by his brother in 1981. Sadly Duane is no longer with us (he now lives in South Carolina).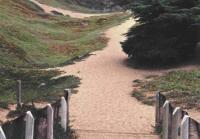 This photo was taken and modified by a photographer/artist friend - Debbie Corbo.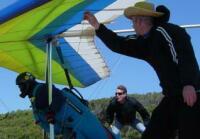 Larry Carpenter sends us this photo in which Chris Cornbill prepares to launch with Curt and Brent on the wires.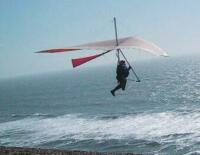 Marco Guzman launches his Sensor 144 - F-3 with flaps at the Fort.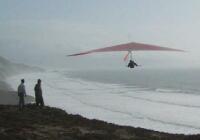 Marco heads south.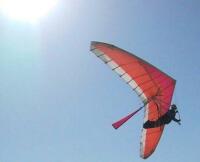 Marco smiles for the camera.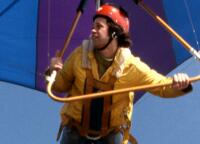 Gene Foley sends us this photo of Lee Sterios. Lee was THE FIRST pilot to link 180 turns in the lift at Funston. Prior to that some pilots were soaring the lift in one direction and then top-landing.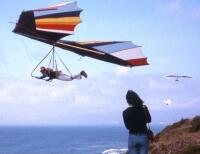 Gene offers another photo from way back. Interesting shape. Brian Fallon says this is the last glider to roll off the Phantom Wing production line, a one of a kind custom designed by Denis Kelberg.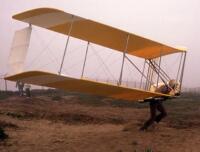 Thanks to Gene for this pic of the old launch at Funston. Note the fence behind the pilot - just to keep top landings interesting.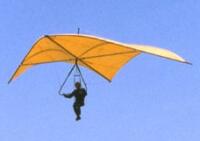 Another blast from our past from Gene Foley. The slope has changed a bit since those days.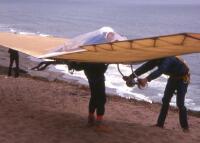 Gene also sends us this pic of the Amazing Dr. Long preparing for his maiden flight from the Fort on a Mitchal wing. A pioneer of modern hang gliding to be sure; and I'm told his landings were always perfect.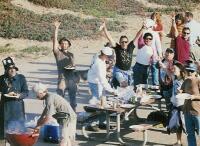 Fun with charcoal and meat at the Fort.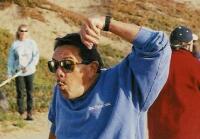 Dave Ruiz goes 'Karate Kid' on the hackey sack.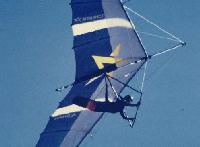 Chief. Circa late 70's w/Antares over Funston. Photo by Leroy Grannis.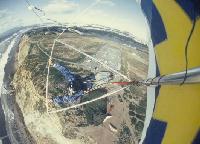 Chief wanged over Planet Funston; 7.5 m/m fisheye lens. Photo by Chip.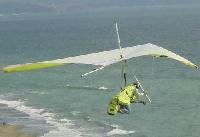 Ashley Groves takes to the air from the Funston launch.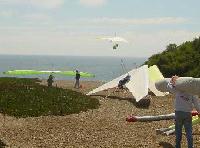 Ashley Groves sent us this photo of the Funston launch on a great flying day.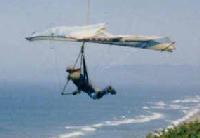 Dave Ruiz sent this photo of a Highster from the late 70's.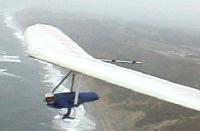 Henry Bittner in the fog over Westlake.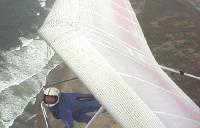 Henry Bittner still in the fog over Westlake.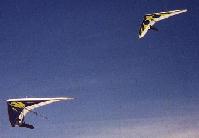 Chief and son soar the Fort.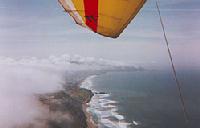 The lovely Anet sends us a nice shot of Westlake.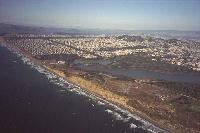 A great shot of our site submitted by Larry Carpenter.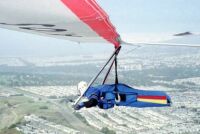 Vince Endter in a self portrait over Westlake.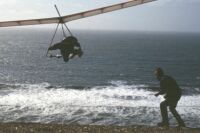 Vince Endter getting a launch assist at the Fort.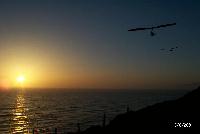 Sunset flight at Ft. Funston.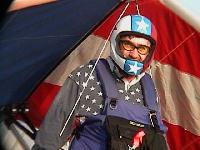 Tim West looking particularly patriotic.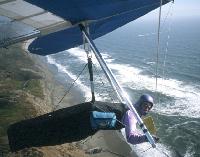 Thomas Blon having fun over Funston.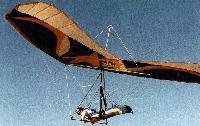 American Indian Air-Force (Chief). "Sheer Delight Over SF". Photo by Dan Racanelli.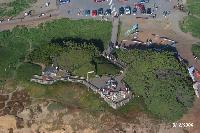 Fort Funston's observation deck from above.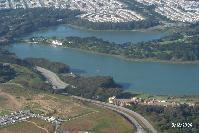 A great view of Lake Merced.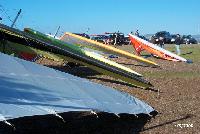 Gliders in setup area.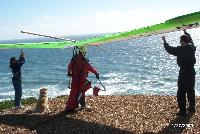 Steve Rudy at Launch.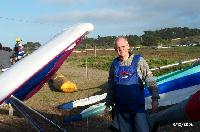 Geoffrey Rutledge - ready to fly.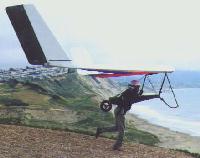 Rick Cavallaro launching a Millennium at Fort Funston.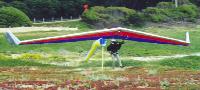 Landing at Funston.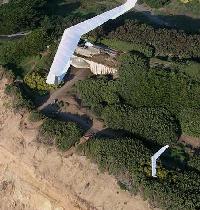 Brian Porter and John Borton test fly production Millenniums at Fort Funston. While Steve Morris captures them from his own Millennium.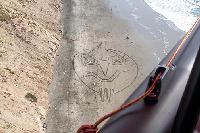 Signs of alien intelligence at Funston?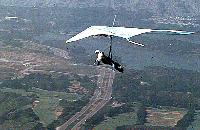 Dave Ruiz flying Funston with Lake Merced in the background. Photo by Bill Wood. The glider is a 165 Bowen Aero, made by the Stratus Co.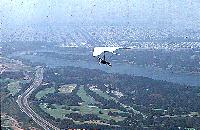 Same guy - same place.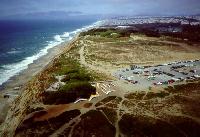 This great photo of our great site was sent in by Thomas Blon.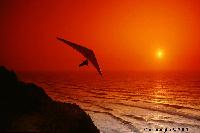 An HP-AT at Fort Funston. Unknown pilot. Photo by Mark Vaughn.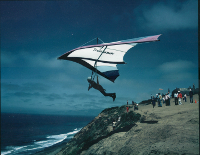 Dan Brown launching his Super Seahawk at Fort Funston 1978.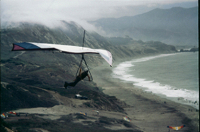 Dan Brown soaring the Bowl at Fort Funston 1978.